Safe Pharamceutical Disposal
As a healthcare organization, managing your pharmaceutical waste stream can be a headache. The experts at Waste Medic will analyze your waste stream in order to guarantee it is segregated and disposed of in a compliant, efficient, and cost effective manner.
Pharmaceutical waste generated by various types of medical facilities can be a difficult waste stream to manage. Not only does your facility need to comply with all applicable hazardous and solid waste regulations, they must also comply with any overlapping regulations from the Department of Health, the Board of Pharmacy, the Department of Transportation, the Pipeline and Hazardous Materials Safety Administration, the Drug Enforcement Agency, the Occupational Safety and Health Administration and Local Publicly Owned Water Treatment Facilities.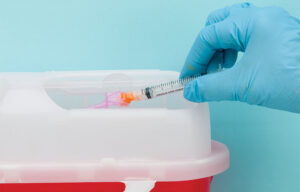 Arlington, VA — Hospital units that consistently follow standard safety precautions experience nearly 40% fewer needlesticks and other sharps injuries than other units, a new
Read More »
Request your no obligation quote.
The amount of medical waste generated varies from organization to organization, but a regular plan for waste disposal is critical. Waste Medic can help. Our expertise and reliable response to your consistent and emergency needs will ensure the safety of your staff, patients, the public, and the environment, while allowing you to focus on maintaining business operations.
Submit the Form
(Visited 1,628 times, 1 visits today)